Presentation of the Company
Hop Gastrobar: Bistronomie in zijn puurste vorm. Ongedwongen en oprecht. Een ode aan onze eetcultuur, aan ons bier erfgoed en eigenwijze wijnmakers.
Een keuken met herkomst, een eigenzinnige boodschap, op zoek naar kwaliteit, nostalgie en vernieuwing.

Hop bevindt zich aan de Vaartkom in Leuven. Deze vlot bereikbare buurt ademt nostalgie door de brouwgeschiedenis maar is tegelijk de meest creatieve en innovatieve buurt van de stad.

Hop gaat voor een professionele / informele totaal beleving. We werken met een beperkt menu dat vaak wisselt.
In de negen maanden dat we open zijn hebben we een grote groep fans opgebouwd,HOP gaat vlot over de tongen in Leuven en daar buiten, We hebben dan ook een goed gevulde agenda, en behaalden we een mooie score va 13/ 20 in gault-millau.
Dit was enkel mogelijk door iedere dag ervoor te zorgen dat alle gasten met een glimlach naar huis gaan .

En daar zijn we trots op !

Met de voetjes op de grond, een warm hart voor onze gasten en veel goesting timmeren we verder aan de weg .
Picture of the Company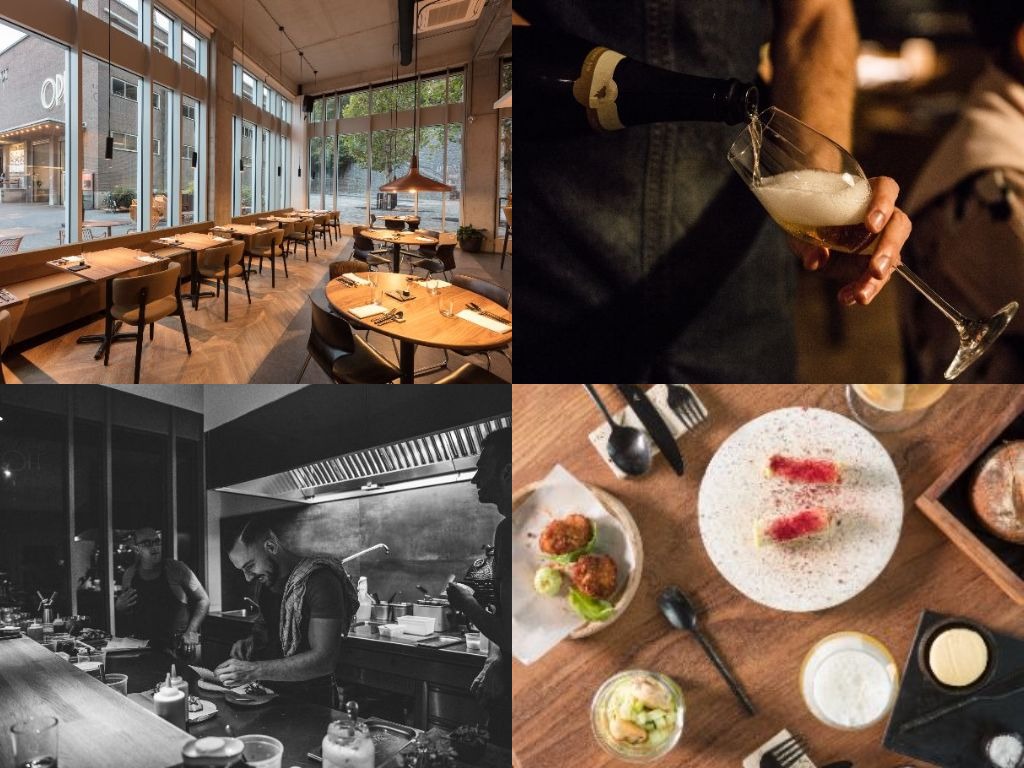 Presentation of the team
Stijn , (ons groentje) staat voor het eerst in de zaal, toch staat hij op een enthousiste manier in voor de bediening...

Jens , Het werkpaard van de keuken ... Als hij geen gewichten verlegt in de GYM, verzet hij tussendoor een berg werk .

Tevi, de man achter de schermen, iedere ochtend zorgt hij er voor dat we weer een prop van start kunnen.

Bram, zaakvoerder / chef / administartieve dienst / een rusteloos beestje dat pas tevreden is als iedereen een top/ HOP beleving heeft gehad
An employee has these 3 qualities to feel good in our team:
zie jezelf / je klaten / je collega's en hop graag ....
A candidate should choose our company because:
Dit is je kans om te starten in een zaak die nieuw genoeg is om mee aan het parcour te timmeren, maar stabiel genoeg draait om je de nodige kansen te bieden op lange termijn.
The training period of a new employee looks like this:
Uiteraard zal er vanaf dag 1 service gewerkt moeten worden, toch zullen we in de eerste dagen / weken / maanden de nodige opleiding / coaching voorzien
These are real career opportunities for employees:
Directeurs hebben we niet @ HOP dus dat zal je hier nooit worden , we zullen je wel alle kansen bieden om je kennis en kunnen verder uit te breiden , en er vor zorgen dat je daar mee binnen de zaak creatief mee aan de slag kan
What are the opening hours of the restaurant?
maandag : lunch & diner
dinsdag : lunch & diner
woensdag : gesloten
donderdag: lunch & diner
vrijdag : lunch & diner
zaterdag: diner
zondag : gesloten
Type of kitchen that is served here:
bistronomie
Total number of seats inside:
30
Total number of seats outside:
30
We serve this many couverts on average in one day:
50 cts
Link to our company website
www.hop-gastrobar.be
Follow us on Instagram
https://www.instagram.com/hopgastrobar/
Recent vacancies by HOP Gastrobar
Below you will find the most recent jobs for this employer.