Presentation of the company
"Otomat, heavenly pizza" is dé stek voor een compleet nieuwe pizza-beleving. In onze
restaurants te Antwerpen, Brugge, Leuven, Brussel en Gent serveren we eigentijdse,
verrassende pizza's. "Speciaal, lokaal én met een verhaal" vormen onze vaste ingrediënten.
Bovendien wordt de glimlach van onze gemotiveerde medewerkers keer op keer gesmaakt.
Zo zorgen we er elke keer voor dat Otomat in geen tijd 'the talk of the town' wordt.
Photo of the company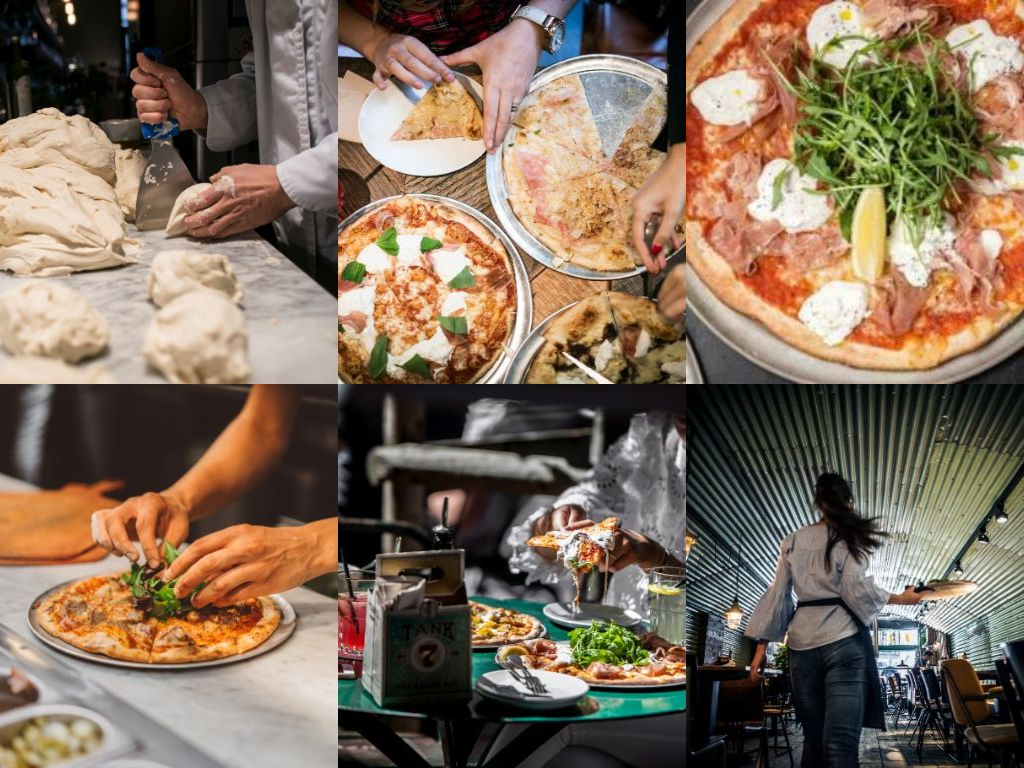 Presentation of the team
Otomat wordt gekenmerkt door een vlakke organisatiestructuur, waarbij iedereen zijn verantwoordelijkheid opneemt. We zijn ervan overtuigd dat de som van gelukkige medewerkers resulteert in een 'happy team', wat op zijn beurt de beste garantie vormt voor tevreden klanten. In die volgorde, niet omgekeerd.
De manager van elk restaurant zorgt er dan ook voor dat de neuzen in dezelfde richting staan, met oog voor een gezonde en inspirerende teamgeest. Bij ons is er ruimte om te zijn wie je bent!
Testimonies
Beste pizza ooit
Super krokante, smakelijke bodem, heerlijke toppings.
Biersuggesties bij de pizza's zijn een plus, temeer je als bierliefhebber goed verwend wordt met de betere keuze. Uiteraard is er ook lekkere wijn.
De vriendelijke bediening maakt het af. Tip : iedereen neemt een andere pizza en deelt ze met de tafelgenoten.

Prettige omgeving; originele en lekere pizza's
Na de goede ervaringen bij Otomat in Antwerpen in de zomer nu zonder aarzelen bij de vestiging in Gent binnengestapt en wederom niet teleurgesteld. Een prima gevarieerd assortiment creatieve pizza's en bij te bestellen salade's. Geen dikke pizza's uit bekende thuisbezorgketens maar dunne pizzabodems met een variëteit aan verse ingrediënten. Side salads met minder gebruikelijke ingrediënten maar onverminderd lekker.

Zeker heavenly!!!
Super zaakje! Langs het water, tegenover de vleeshal gelegen. Vriendelijk personeel, gaven geen opdringerig gevoel. Toffe menukaart, eens iets anders dan gewoon pizza. De pumpkin Jack flash pizza en de poulet chausseur pizza waren echte voltreffers. En het dessert was heerlijk. Een echte aanrader voor groot en klein. Voor kindvriendelijkheid een dikke duim. We komen zeker terug
Where do you want your company to be in 5 years?
Passie, gastvrijheid, persoonlijkheid
Describe your company in 4 key words
Als je in de horeca uitgedaagd wil worden, zit je bij Otomat op de juiste plek! Je krijgt niet alleen een stevige basis aan horeca-skills, maar we nemen je ook mee in ons hospitality- verhaal.
What are the 3 most important qualities an employee must have to work with you?
Na 2 positieve proefdagen krijg je een contract van bepaalde duur (8 weken). Tijdens deze periode geniet je een praktische opleiding. Is de evaluatie van deze periode voor beide partijen positief? Dan bieden we je graag een contract van onbepaalde duur aan. We starten onze nieuwe samenwerking meteen met een hospitality-opleiding. Hierin geven we je de nodige achtergrond en kapstokken, die je zullen helpen om de juiste keuzes te maken in je loopbaan.
Name 2 benefits to work with you, which distinguishes you from other companies
We zorgen dat je de talenten die je hebt verder kunt ontwikkelen, maar we dagen je ook uit om nieuwe talenten te ontdekken en hierin te groeien.
What does the first working week of a new employee look like?
+50
Date of the opening of the first location
Onze eerste vestiging opende in Antwerpen, op 2 oktober 2015 … om 12u stipt! ;-)
Current number of opened outlets
5! Antwerpen, Gent, Brugge, Brussel en Leuven
Total number of permanent employees
+50
In which Belgian cities are you currently active?
Antwerpen, Gent, Brugge, Brussel, Leuven
Jazeker! Overal waar Otomat een bestaansreden heeft, zullen we het proberen.
Recent vacancies by Otomat
Below you will find the most recent jobs for this employer.