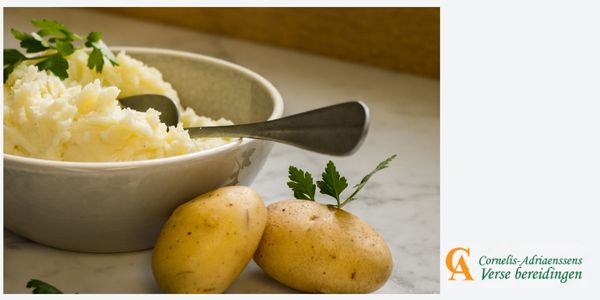 Productiechef
Company
Cornelis-Adriaenssens is een industriële keuken waar traditionele bereidingen dagvers gemaakt worden. Productie van aardappel en groentebereidingen is onze specialiteit
Tasks
Bereiding van warme en koude gerechten.
Productontwikkeling samen met de bestuurders.
Verpakking en logistiek.
Aansturen van het team
Reiniging van de infrastructuur, de gebruikte machines en materialen.
Profile
Je hebt reeds enkele jaren ervaring als kok of productiechef.
Je hebt kennis van verschillende keukentechnieken.
Je hebt voldoende ervaring om een team aan te sturen.
Je legt de lat hoog en bent fier op de bereidingen die bij Cornelis-Adriaenssens gemaakt worden.
Je respecteert veiligheids-, kwaliteits- en hygiënenormen (HACCP).
Je bent een echte teamplayer, groepsgevoel en collegialiteit draag je hoog in het vaandel.
Je hebt zin in verantwoordelijkheid en kan goed zelfstandig werken.

Work Schedule
Daguren
Van maandag tot vrijdag.
Start date
Onmiddellijk
Offer
Naast een markt conform salaris kom je terecht in een bedrijf dat volop inzet op vernieuwing om kwalitatief nog beter bereidingen af te leveren en het productie proces efficiënter te maken voor het team.
Solliciteren
Cornelis-Adriaenssens
tav Vincent of Astrid
Lodewijck De Weerdtstraat 11
2900 Schoten

Vincent: 0474 587691
Astrid: 0475 900458
mail: info@cornelis-adriaenssens.be

Of solliciteer via de button onderaan deze pagina.
Statistics
| | |
| --- | --- |
| Number of pageviews: | 2376 |
Company
Cornelis-Adriaenssens
Publication date
05.09.2022
Vincent Tibau
vincent@cornelis-adriaenssens.be