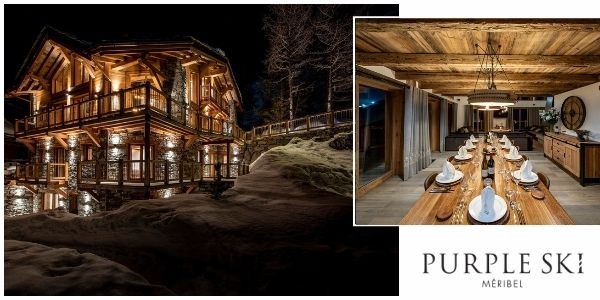 Luxury Chalet Chef
Bedrijf
Purple Ski provides luxury catered chalet holidays in Méribel, Courchevel and Val d'Isère, France. We operate truly exceptional chalets which can accommodate between 8 and 14 people, so that we can focus on providing a very high quality and individual service. With 29 years of experience under our belts, we know that our staff play a vital role in the success of our company, so we are looking for enthusiastic, hard-working and professional people to join us and help maintain and build on our excellent standards and reputation. We take pride not only in making sure that our guests have the best possible skiing holiday, but also on being a great company to work for. We hand-pick our team based on skills, experience and a great attitude, and we do expect the highest standards of work. However, we make sure that this is well rewarded and that there is plenty of time for enjoying life in the mountains as well. Our record as an excellent employer is evident by our very high staff retention rates during each season (staff seldom leave us mid-season) and typically large number of returning staff each season (about half of the 2019-20 team were returners).
Taken
The Chef works alongside the Chalet Manager, Chalet Assistant(s) (where applicable) and the Chalet Assistant/Driver to manage his/her assigned chalet on a day to day basis, ensuring that the guests' needs are met at all times while maintaining the Company's standards. The chef's primary responsibility is for the provision of exceptional quality food and drinks. We truly aim to deliver the best food in the Alps, and arguably succeed in this - we won The Times Chalet Chef 2010 award - "upmarket catergory", but our standards have improved hugely even since then. We are serious about our food and have very high standards! Take a look at some photos (snaps - not professional!) from previous years to give you an idea of what we do / look for. Working essentially as a private chef, you need to tailor your food to meet your customers' needs and wishes, which can be challenging, but you also have immense freedom to work on your own dishes, show your creativity and flair. The hours are long, the job is physically and emotionally demanding and you need to be good at working as part of a team. You must have extremely high work standards, be customer-focused, self motivated, take pride in your work at all times and be conscientious. No shopping is required! However you are responsible for ordering chalet supplies and managing within a (generous) budget.
Main Duties:
General Contacts guests (party leaders) by telephone before their arrival to introduce yourself and confirm/determine/discuss any special dietary and other special requirements
Helps make birthdays and anniversaries special
On changeover days, helps to welcome guests and arrange servicing and/or hire of ski equipment, ski lessons etc. as required
Is available to answer any questions, or resolve any problems that the guests may have, always aiming to do whatever they reasonably can to ensure that guests have the best possible skiing holiday, whether on or off the slopes. To enable this, is knowledgeable about the resort, its facilities, the Purple Ski website and the Staff Manual.
Cooking:
Provides exceptional quality breakfast, afternoon tea (including freshly baked cakes/slices), children's high tea, pre-dinner canapés, dinner (at least 3 "main" courses plus cheese, on 1-2 nights, a 6-7 course tasting menu) and truffles/petit-fours with appropriate wine and drinks, 6 days per week.
Caters for any special diets as required (e.g., vegetarian, gluten free etc.)
Selects (from the Purple Ski cellar) and serves suitable wines at dinner
Cooks for self and all other staff working in / supporting the chalet
Prepares picnics for Purple Ski airport transfers as required
Housekeeping:
Ensures that excellent standards of hygiene and cleanliness are maintained in/around the chalet at all times
Cleans kitchen, kitchen equipment and dining room/area, leaving all areas clear and spotless after each service (i.e., breakfast and dinner) and before leaving the chalet.
Weekly (usually on changeover day) performs a thorough clean of these areas, including oven, fridges and freezer, microwaves etc..
On changeover day, in addition to the above, works closely with the rest of the chalet team, does whatever is needed to ensure a smooth and pleasant transition for the guests and efficient changeover for staff.
Helps with cleaning and bed making etc. as required
Manages and cleans all food storage areas within the chalet
Helps chalet manager/assistant clear away after mealtimes and clean up In conjunction with the rest of the chalet team, sets up and closes down the chalet at the start and end of the season
Administration:
Maintains a record of all dinner menus, breakfast and afternoon tea dishes and submits these weekly as required
Takes the lead in the management of stocks of all items/requirements for the chalet: prepares and submits orders to the Supplies and Maintenance Manager on a timely basis, performs stock takes as requested, explains any exceptional usage as requested.
Ensures that all variable chalet costs are kept within budgeted levels
Ensures that fridge and freezer temperatures are maintained at a safe level for the storage and preservation of food; reports any issues immediately
Reports any maintenance/repair issues promptly and helps in resolution as much as possible
Helps ensure that guests settle bills for any extras incurred during the holiday
Encourages guests to complete the visitors' book
Profiel
Previous Experience:
Applicants should hold a recognised cooking qualification and MUST demonstrate at least 4 years experience in the professional kitchens of restaurants of 3 AA rosette standard / 1 Michelin star or similar, having held chef de partie or more senior positions.
Previous chalet work is not required and while spoken French is not necessary, it can be an advantage.
Good communication and team working skills are essential.
No age restriction but applicants under 24 years are highly unlikely to have sufficient experience.
Startdatum
When:
From end Nov 2021 to end April 2022
Working week is 5.5 days- working mornings and evenings with time off each day to Ski and enjoy the mountains.
Aanbod
We offer a monthly gross salary of 2750 euros which includes accommodation & food and ski/board hire for the season.
Solliciteren
Purple Sli Ltd
att. Rebecca McInnes
m: beck@riviera-rl.com
t: 00337444689110

Or use the application buttons at the bottom of this page!
Statistics
Opdrachtgever
Purple Ski Ltd
Publicatiedatum
18.11.2021
Rebecca McInnes
beck@riviera-rl.com